In the Balinese highlands, a secluded treasure awaits you
Clove Tree Hill is a venture between our manager Dian who is the traditional landowner, and business owner Eileen. Together Dian and Eileen developed the vision for an eco luxe retreat to provide both an opportunity for guests to connect with the real heart of Bali while developing sustainable economic opportunities for local people.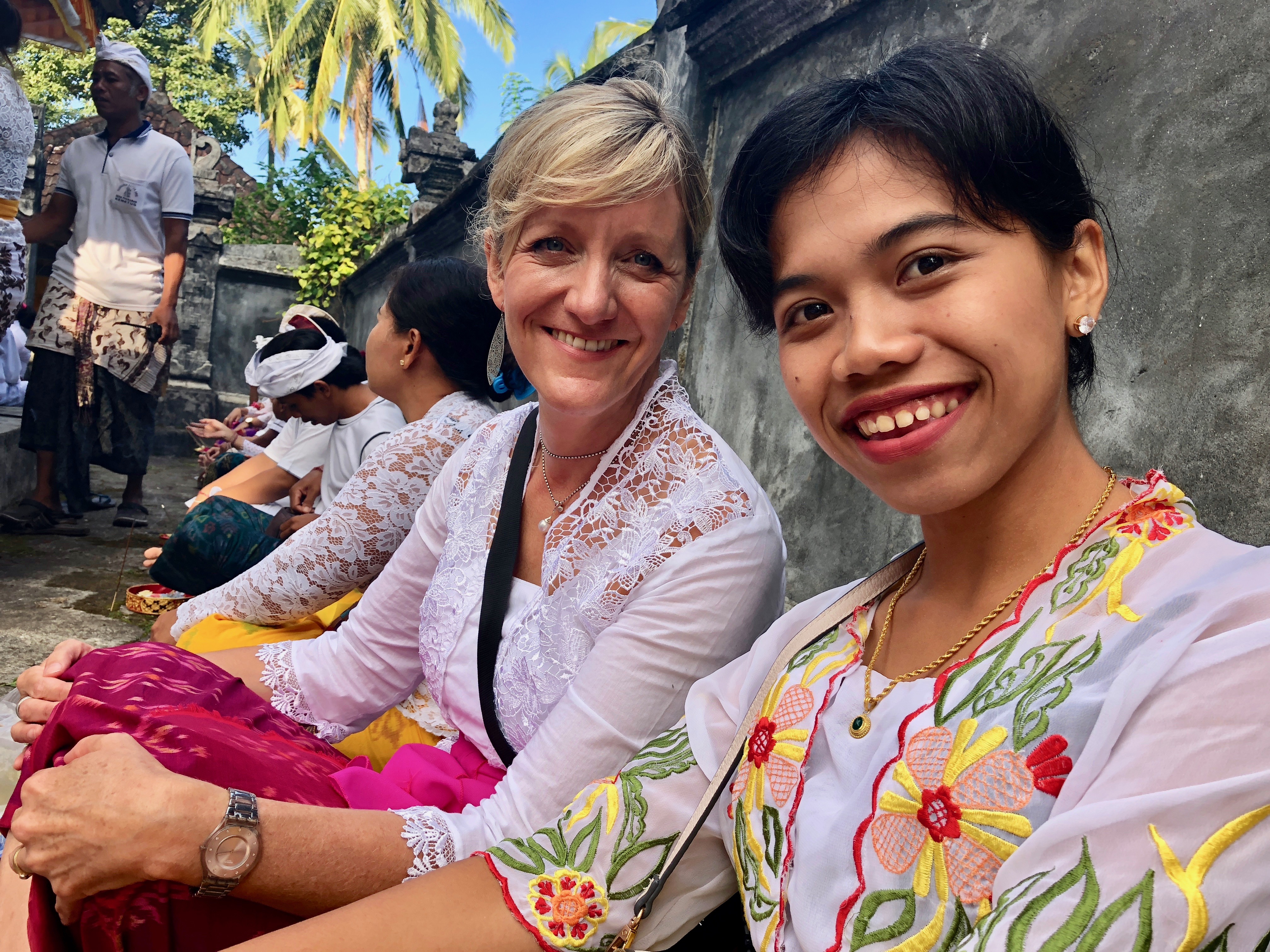 Dian is the first young woman in Kanciana Village to be University educated and has worked hard to achieve a Bachelor of Economics. Clove Tree Hill has provided Dian with the opportunity to find employment in her own village, put her education to exceptional use and work on her dream to create opportunities for the local people in and around her community.

Dian's family has owned the land at Clove Tree Hill for generations, and has developed and nurtured the food forest and adjacent terraces that you see today. It is important to us at Clove Tree Hill to retain the intent of the owners, with the resort continuing to operate as a tradition food forest farm, for guests to experience first-hand.

Eileen has developed links with Bali spanning over 30 years and has a close personal affinity with Balinese culture and people. Eileen is a small business mentor with a social heart and a personal business background in natural healing, horticulture and the arts, all of which have inspired the desire to create a beautiful place for guests to stay and experience the traditional culture and nature of Bali which has come to life at Clove Tree Hill.
We pride ourselves on employing people from surrounding villages and creating opportunities for locals to improve their economic situations while remaining close to their homes and families. Our staff are an important part of our family at Clove Tree Hill. We support them with health care initiatives and time for Balinese ceremonies that are a rich part of their culture. Guests are warmly welcomed to attend local ceremonies and immerse in the local culture.


Pure Spring Water
Directly sourced from Mount Batukaru, our fresh spring water is among the purest you will find in Bali. It's so clean you can drink it from the tap and use it for bathing and showering. Go directly to the source at Clove Tree Hill.
Our Food
Sourced locally, Clove Tree Hill is a working food forest with fruits, herbs, and spices harvested for use in our restaurant, including our own coffee, cloves, coconuts, banana, papaya, pineapples, mangosteen, durian, jackfruit, mulberries, passionfruit, Balinese herbs and spices.
The food forests at Clove Tree Hill have been preserved and added to providing a wide variety of tropical delicacies. Guests are welcome to join a tour of the food gardens to learn more about Balinese tropical fruits, herbs and spices, their uses in cooking and health properties.
Our vegetables are sourced from an organic farm situated on higher slopes of Mount Batukaru, and our seafood is wild caught from Bali's surrounding oceans.
Watch locally grown rice being planted, cared for and harvested from the rice terraces at different times throughout the year.
Our Villas
Are designed to allow for natural airflow and cooling mountain breezes so that if you wish, you can fully open the eco luxury villa to your surroundings, and immerse yourself in nature. Clove Tree Hill is 5 degrees cooler than the coastal areas of Bali, so while you may not require air-conditioning it is available for your comfort, particularly during the wet season when humidity is high. No need to compromise on comfort.
Our Resort
Built by local craftsmen, specially designed using locally sourced materials, and situated in the existing established food forests, our beautifully carved signs, mirrors and other features have all been created by local Balinese woodcarvers using skills and techniques handed down over generations.
The layout of our resort has been designed in consultation with village elders to ensure local cultural beliefs are respected and our local community connections are strong. Experience the beauty and richness of Balinese culture with our temple and daily offerings.
Providing Opportunities
We're passionate about providing opportunities for local people to create their own micro-enterprises that the visitor can engage with and experience.
Enjoy massage, experience cultural workshops, trekking and day trips with local people who will generously share their knowledge and culture to ensure your stay at Clove Tree Hill is memorable. At Clove Tree Hill we are committed to supporting the people and community in which we live.